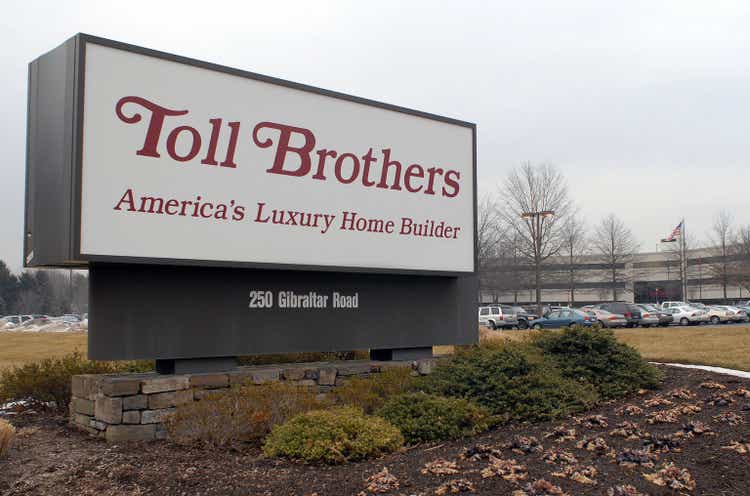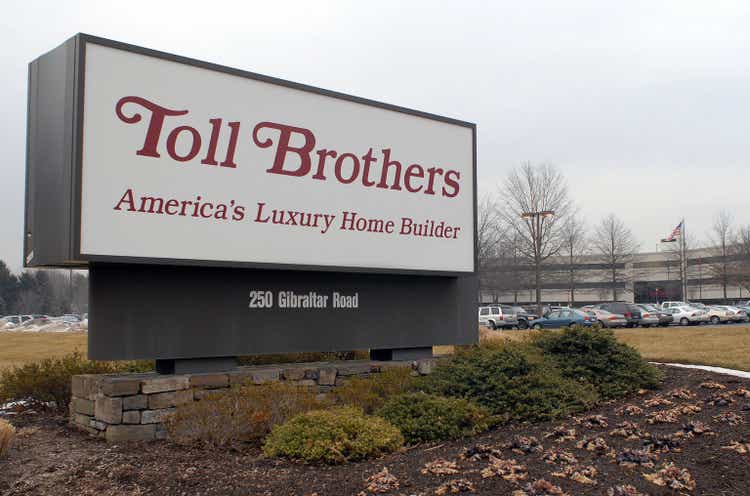 After a smoking-hot 2021 on top of a smoking-hot 2022, the housing market has begun to moderate. Buyers are adapting to higher mortgage rates and other macroeconomic conditions.
They have to. And so does the homebuilder sector overall.
As viewed below, that business category has become more challenged with weaker existing home sales and housing turnover.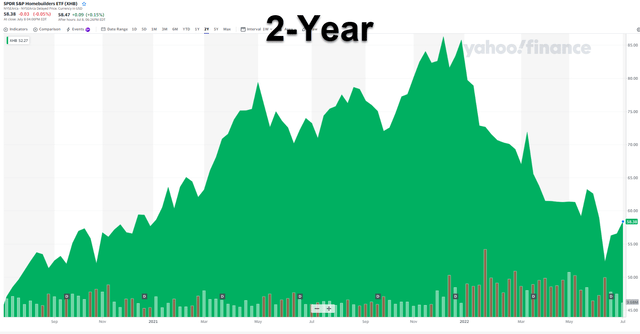 Yet, believe it or not, despite the moderation year-to-date, the housing market remains healthy. Many fundamental drivers that have supported the housing sector in recent years remain firmly in place.
These include favorable demographics, with 150 million millennials and baby boomers – many of whom are experiencing life events that are driving home demand.
In addition, there remains pent-up demand fueled by COVID-19's work-from-home phenomenon. This has created a shift to buyers being freer to live where they want, not where they work.
It's also created a desire for more square footage, more choice, and more useable designs with home offices, multi-generational living and areas for study.
Let's explore one very solid opportunity this situation has opened up with Toll Brothers (NYSE:TOL), a luxury builder that's the worst performer of its stock market peers year-to-date.
The Homebuilding Situation Toll Brothers Is Dealing With
We all know the supply-and-demand imbalance since the housing crisis created a chronic shortage. According to a 2021 report from the National Association of Realtors:
"The new home industry has underproduced by up to 6.8 million homes between 2010 and 2020 when compared to the new homes needed to keep up with the growth in household formations and to replace lost and obsolescent units."
The average age of a home in the U.S. is now more than 40-years-old, according to the U.S. Census Bureau. This gives new homes a significant advantage in terms of their appeal, energy efficiency, technology, and floorplan designs that meet today's buyer's needs.

Yet homebuilders are selling at bargain prices.
Recognizing that probable mispricing, we recently decided to add them to our coverage spectrum. That makes sense since we already cover residential real estate investment trusts (REITs) and commercial mREITs – including the two that focus on homebuilding, Broadmark Realty (BRMK) and Sachem Capital (SACH).
As Bank of America research analyst Rafe Jadrosich points out:
"Homebuilder stock performance tends to underperform the broader market leading into a recession. During a recession, homebuilders have historically outperformed while stock performance during the economic recovery is mixed."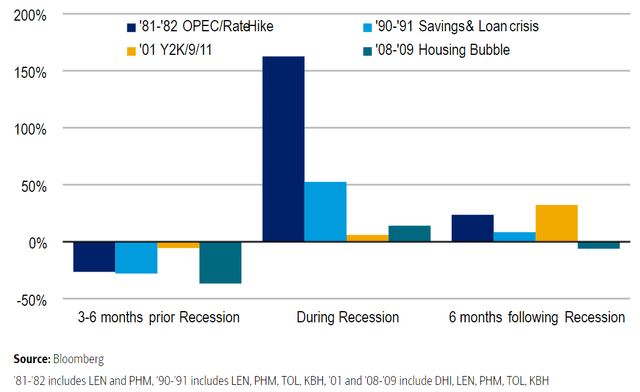 As illustrated below, sentiment remains very low on homebuilder stocks. We understand why, mind you, with rising mortgage rates and recession fears.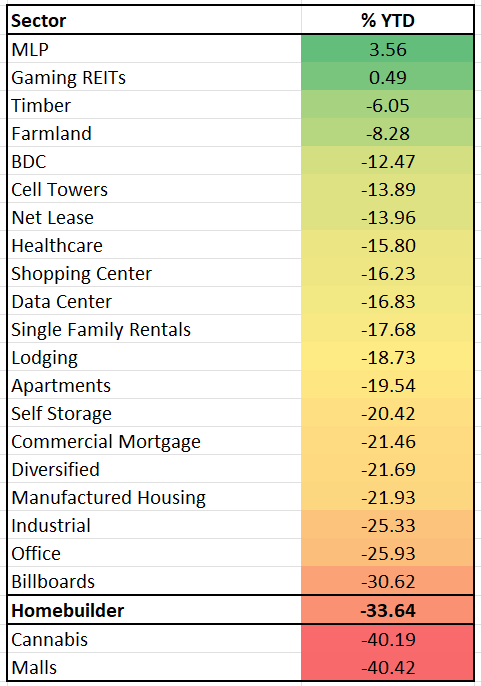 But there's good reason to get in now when it comes to Toll Brothers.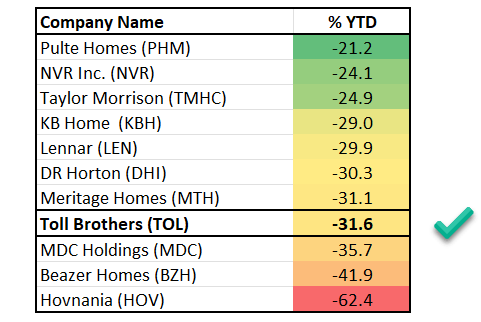 In full disclosure, I've already purchased a small position I intend to add to over time. I was impressed with the initial research we conducted and plan on connecting with management too.
Here's why…
The Toll Brothers Basics
TOL was founded in 1967 by Bob and Bruce Toll in southeastern Pennsylvania. They were inspired by their father, also a homebuilder, to build their own first two homes.
Around a decade later, TOL broke ground on its first large master planned community concept. That was a strategic move after the I-95 corridor to New York City transformed Bucks County, Pennsylvania into a bedroom community.
TOL went public then in 1986 with revenue of $124.6 million from 15 communities.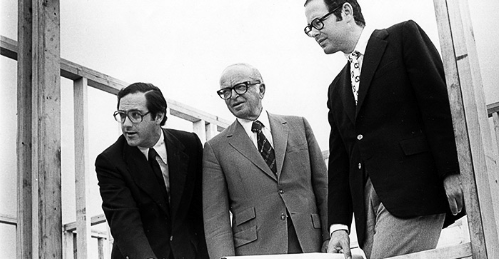 Today, TOL is an award-winning Fortune 500 company and the nation's leading builder of luxury homes. And it was named the World's Most Admired Homebuilder in Fortune Magazine's 2022 survey – the seventh year it's received that honor.
It's also claimed national Builder of the Year by Builder magazine and the same twice by Professional Builder magazine.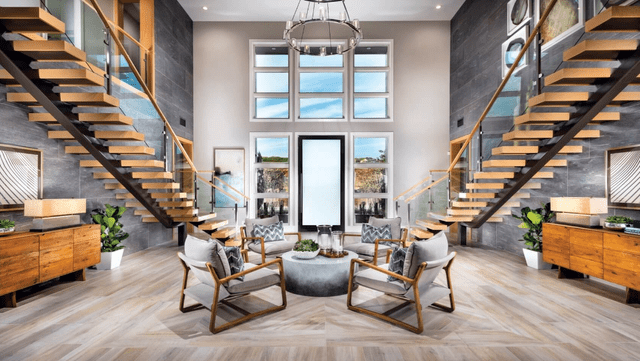 In 2002, TOL opened its first "Toll Brothers Design Studio" in Florida. This offered homebuyers a showroom environment to view and compare the luxury and designer options available for its homes. That worked out so well, it now has 35 of them in key locations throughout the country.
Consider how in Q2-22 the average homebuyer added 25% to their base price in options and lot premiums. That brings it to an average $186,000.
And there's a higher-level of consumer engagement through TOL's Design Studio experience. Plus, around 80% of TOL homes are pre-sold built-to-order such that the Design Studios are a true differentiator.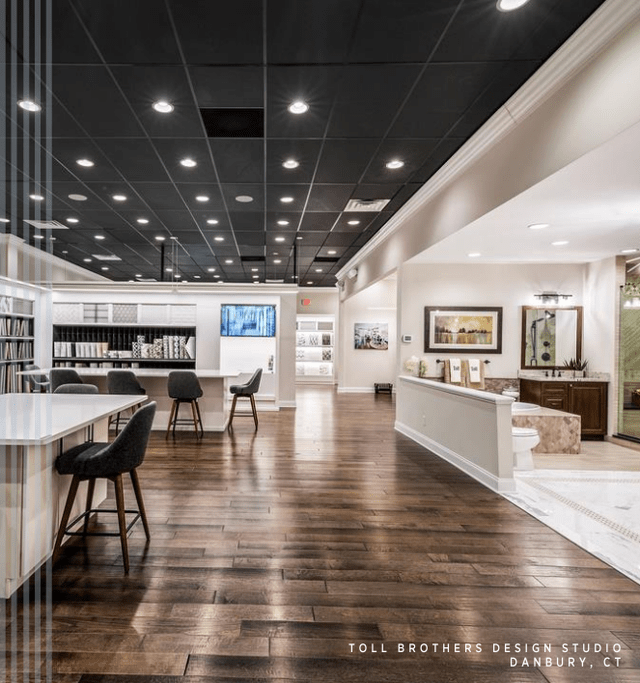 TOL Has Luxury And Then Some
Another key differentiator for TOL is the luxury experience it offers, something we're very interested in getting involved in. Yes, even now.
Approximately 20% of TOL customers pay all cash. And those who do take a mortgage? They average approximately 70% loan to cost (LTC).
The average purchase price for a Toll Brothers home is just under $1 million today. So, its customers aren't the type to automatically suffer too much from a downturn.
They tend to have higher incomes and net worth, and many have benefited from significant price appreciation in their existing homes.
TOL's Q2-22 earnings results were strong, as we'll discuss in greater detail later. For now, though, here's what to know.
Much of its 18% top line gains were fueled by a 12% increase in TOL's average home price – which topped $900,000. Also, its backlog level at the end of April was up 16% in unit with an average selling price of nearly $1 million.
Given that it takes 10-12 months to deliver a TOL home from contract creation, we're looking at good visibility of revenue and earnings that should remain strong well into 2023.
As viewed below, TOL buyer's average credit score – FICO – in Q2-22 was 768 and 775 for jumbo loans. Importantly, buyers utilizing the latter benefit from a rate that remains 0.75 points lower than the conforming rate.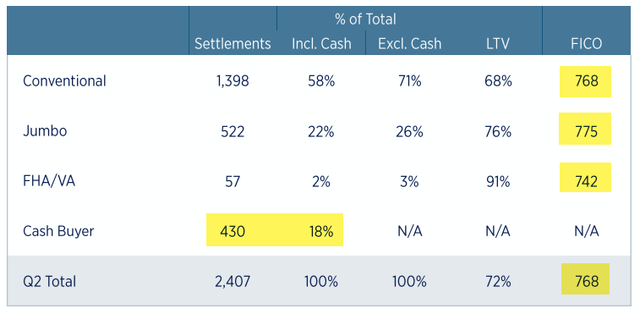 Location, Location, Location
As previously referenced, TOL is a dominant player with few competitors in the high-growth and high-barrier-to-entry markets it operates in.
As shown below, it's now in 24 states and 60-plus markets: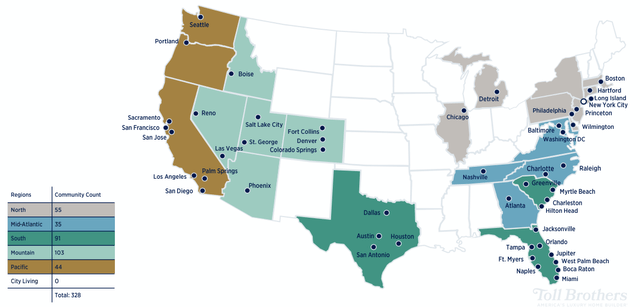 At the end of Q2-22, TOL had a stake in 85,800 lots, of which 53% were controlled and 47% were owned.
Nearly 12,000 were already committed to homebuyers in the backlog. So, excluding these, TOL's controlled land represents 61% of the total.
This position – of which the majority was contracted pre-pandemic – provides TOL with sufficient land needed for significant growth.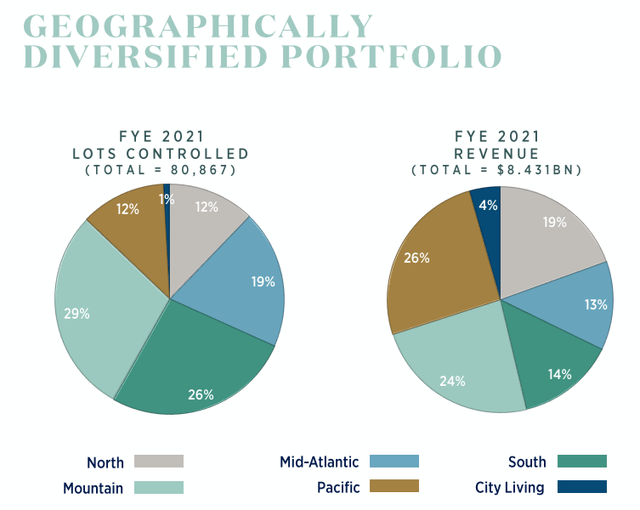 The homebuilder also structures land acquisitions more efficiently by using more:
Third-party land-banking
Joint ventures
Option arrangements
This serves to minimize risk. On its recent earnings call, TOL CFO Marty Connor pointed out:
"I talked about another $2.5 billion of owned land that's in our inventory. We feel very good about the underwriting of those. Those also projected roughly 25% to 30% gross margins. So, we would have to see significant cost growth or price drops, and we are not seeing that at this point.

"And then the last piece is the $500 million of option deposits or sunk costs we have on deals that are in our option plan portfolio. And again, that's not a big number to control 46,000 lots. There may be some occasions in there where we choose not to proceed with the deal as we saw in the first and second quarter.

"(In) the first quarter and second quarter, we wrote off $4 million of cost associated with those as the underwriting of those deals didn't work for various reasons as part of our diligence exercises."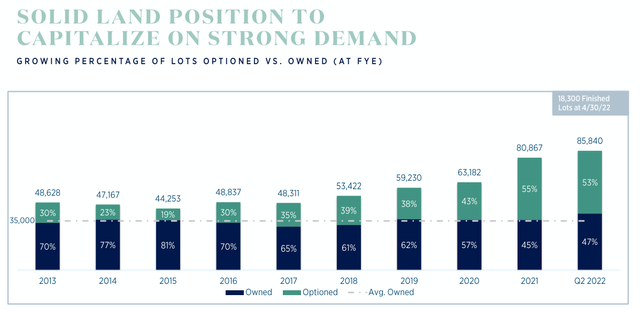 But there's more to know from there.
Another Downturn Protection on Toll Brothers' Part
Let's next hear how TOL has ventured into the rental market in CEO Douglas Yearley's words (on the earnings call):
"Yes. We love the business. It's performing very well. Our joint venture with Equity Residential (EQR) is fantastic. The teams are working really well. EQR is a great partner. There is more and more opportunities for us to co-develop with them, and then they take us out at stabilization.

"As we have mentioned, we are now committed to sell all of the apartment buildings, the stabilization to produce earnings. That becomes more predictable for all of you, and we see that business growing, but we are not having to put more investment into it because we are turning assets quickly as we get more and more assets and they would sell a stabilization, that money can be recycled."
TOL's Apartment Living division is now one of the U.S.' premier rental apartment developers. It operates in urban and suburban rental communities and, through its Toll Brothers Campus Living platform, student housing as well.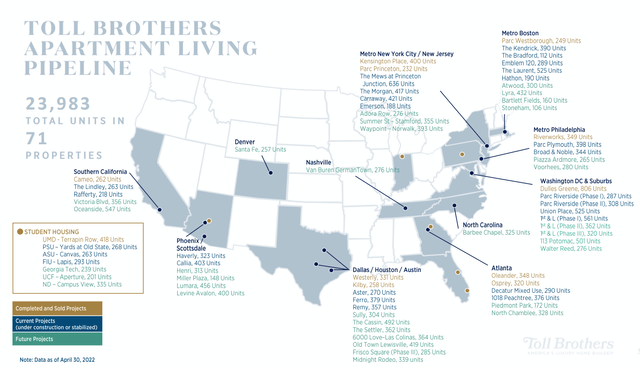 Since the start of fiscal year 2020, TBAL has launched $2.3 billion of new development projects totaling approximately 6,550 units.
Typically, this unit operates in joint ventures paying about 10% of each project's total cost. It then receives development fees and promoted interest as projects are monetized through a sale at stabilization.
In FY-21, TBAL and its JV partners sold five stabilized projects. Those generated over $100 million of net cash and $75 million of income from unconsolidated entities – for TOL alone.
The EQR JV, in particular – which has an initial term of three years – looks to acquire and develop sites for new rental apartment communities in metro:
Boston, Massachusetts
Atlanta, Georgia
Austin, Texas
Denver, Colorado
Orange County/San Diego, California
Seattle, Washington
Dallas-Fort Worth, Texas
For selected projects, EQR should invest 75% of the equity and TOLL the remainder. It's expected that each project will also be financed with approximately 60% leverage.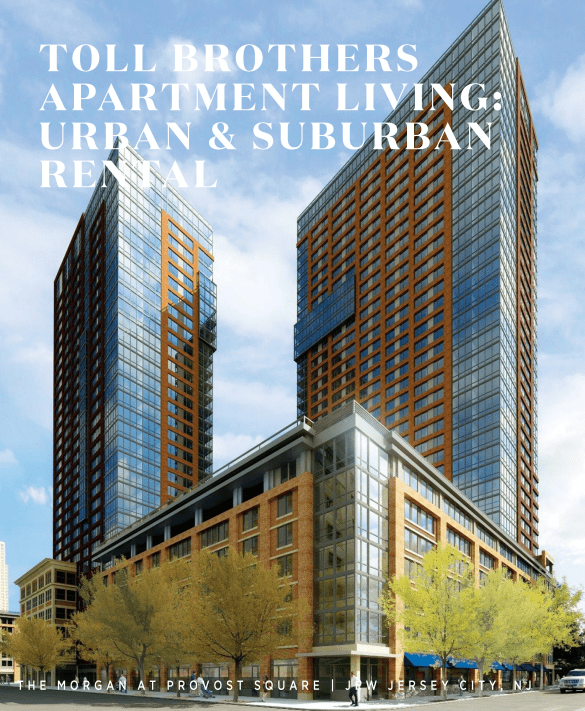 Browsing Through Toll Brothers' Balance Sheet
TOL has a strong balance sheet (BB+, Ba1, BBB-) and finished the latest quarter with:
A net debt to capital ratio of 33.1%
$535 million in cash and equivalents
$1.8 billion available under its $1.9 billion revolving bank credit facility
Also, executives and directors own about 9% of shares.
TOL remains focused on improving its return on equity. In Q2, it repurchased $106.5 million of common stock. And since the beginning of the fiscal year, it's repurchased about $308 million, or 4.6% of the year-end share count.
The homebuilder has paid $44 million in dividends year-to-date and retired $410 million of long-term debt. Speaking of which…
In March, its board approved an 18% increase in the quarterly dividend. And it recently refreshed its share repurchase authorization to 20 million shares.
That amounts to nearly $900 million based on current prices.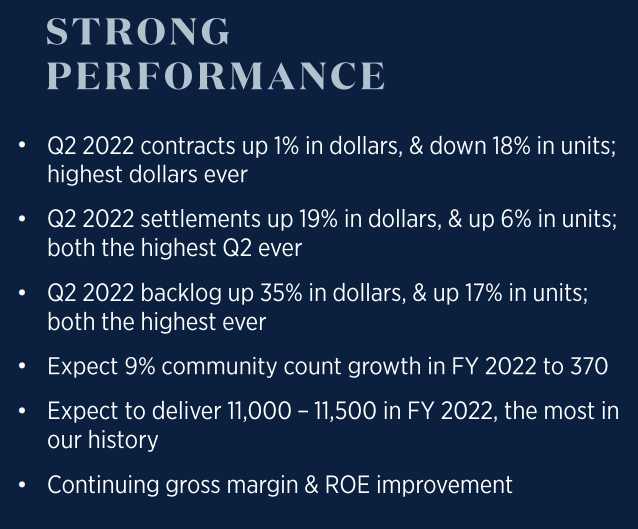 A Luxury Homebuilder Average Joe And Jane Can Now Afford
I decided to dip one toe into Toll Brothers – and therefore the homebuilder bucket – because of its luxury-segment focus. As viewed below, TOL is that category's dominant player, and we expect it will perform well in a "garden-style" recession.

The demographics are compelling, as millennials are entering home-buying years and baby boomers are making their next home move. And the continued migration to sunbelt markets should continue to benefit TOL's business model too.
Put simply, TOL's buyers are capable of navigating current market conditions without blinking an eye. As I pointed out earlier, its backlog level at the end of April was up 16% in unit terms with an average selling price of nearly $1 million.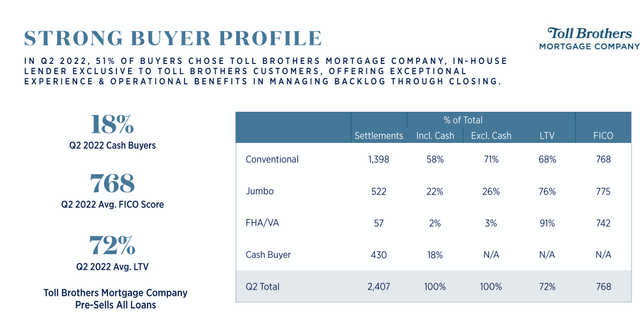 Plus, TOL has a diversified portfolio of products that include: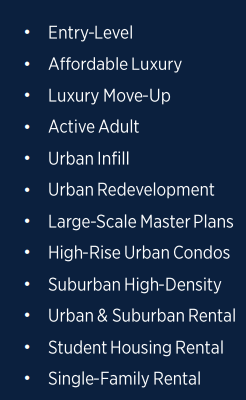 Desirability is another important differentiator, and TOL ranks highest in this submarket desirability Index:

Yet, as seen below, TOL shares have declined around 34% so far this year: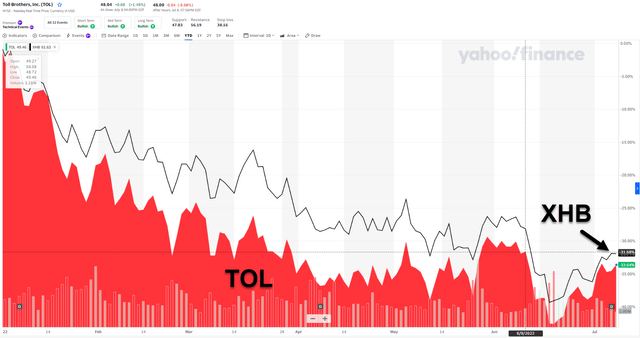 As viewed below, TOL trades at $48.04 per share with a price-to-earnings of 5.3x. Its normal range, as shown by the blue line, is 13.4x.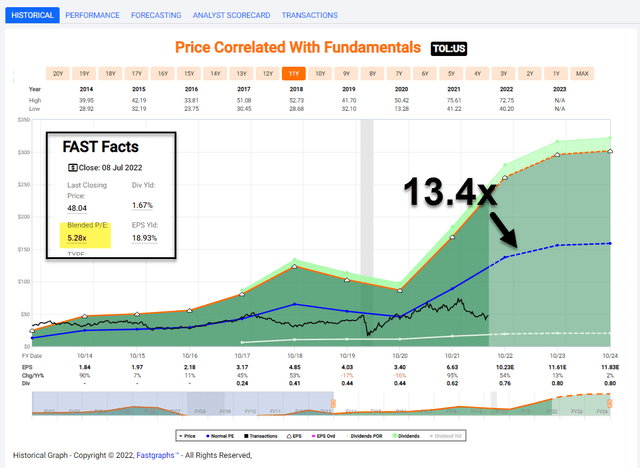 Keep in mind, shares were trading at a P/E of 4.2x at the darkest days of the pandemic.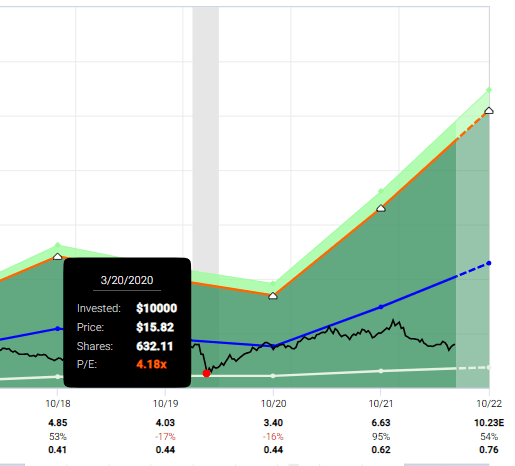 And don't forget to factor in analyst expect earnings to rise 54% in FY-22 and 13% in 2023.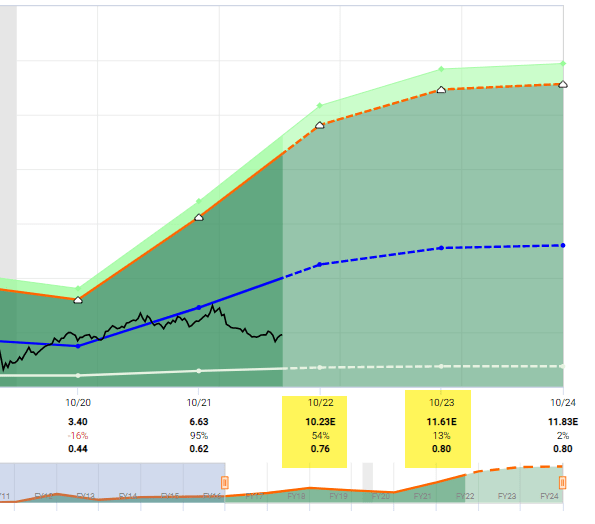 As for us, we model TOL to return about 40% over the next 12 months: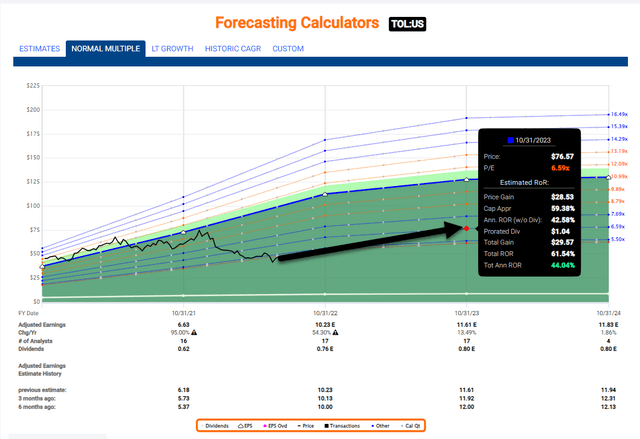 In Conclusion…
As BofA points out:
"Homebuilding is still highly cyclical. The industry has changed for the better since the housing bubble and we see many reasons that this cycle will not end in a crash, including:
Builders have reduced land position risk through option contracts, carry less debt, and are generating cash on the upcycle.
Lending standards are significantly higher, and the credit profile is much stronger for current homebuyers.
Industry is more consolidated, and public homebuilder market gains have accelerated.
(There's) a more measured building pace due to stringent entitlement/permit process.
There are fewer international buyers.
Also, BofA sees "growing institutional demand for single-family rentals as a risk. But they still account for a small portion of the market and arguably could also represent an incremental buyer if affordability continues to worsen."
TOL remains one of our top builder picks given cheap valuation, long runway for healthy margins – with 75% of its land purchased before pandemic – and a resilient backlog that affords a predictable earnings path.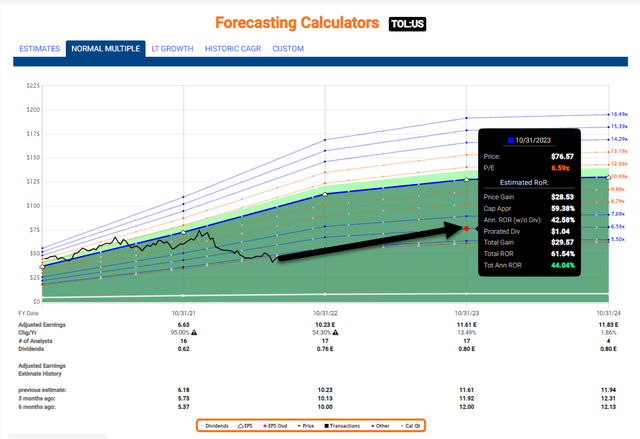 In short, we like what we see!
Author's Note: Brad Thomas is a Wall Street writer, which means he's not always right with his predictions or recommendations. Since that also applies to his grammar, please excuse any typos you may find. Also, this article is free: written and distributed only to assist in research while providing a forum for second-level thinking.